{Book Review} A Darker Shade of Magic by V.E. Schwab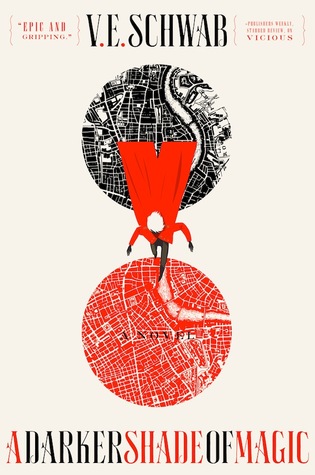 Kell is one of the last Travelers—rare magicians who choose a parallel universe to visit.

Grey London is dirty, boring, lacks magic, ruled by mad King George. Red London is where life and magic are revered, and the Maresh Dynasty presides over a flourishing empire. White London is ruled by whoever has murdered their way to the throne. People fight to control magic, and the magic fights back, draining the city to its very bones. Once there was Black London – but no one speaks of that now.

Officially, Kell is the Red Traveler, personal ambassador and adopted Prince of Red London, carrying the monthly correspondences between royals of each London. Unofficially, Kell smuggles for those willing to pay for even a glimpse of a world they'll never see. This dangerous hobby sets him up for accidental treason. Fleeing into Grey London, Kell runs afoul of Delilah Bard, a cut-purse with lofty aspirations. She robs him, saves him from a dangerous enemy, then forces him to another world for her 'proper adventure'.

But perilous magic is afoot, and treachery lurks at every turn. To save all of the worlds, Kell and Lila will first need to stay alive — trickier than they hoped. *
I started reading this with just a fair amount of interest, and I wasn't as invested at the beginning because I found it quite slow, so it was always in the back burner for a while until I finished the other books I was reading at the time, but as I journeyed with Kell and Lila throughout the book, my imagination pretty much exploded trying to imagine all the other Londons, and I had so much fun trying to see everything in my head. I reasoned that I didn't want to rush it, because I wanted to absorb as much of the worlds as I could, and I figured reading by parts would be the best course of action I could take (yes, I like planning things way too much). That plan turned out pretty well until more than halfway through the book, when I was just, sod it, I'm going to finish the entire thing. Goodbye, schedule for the rest of the day.
The worldbuilding was fantastic. It was like I could imagine what all the Londons looked like, but I still wanted so much to have been there myself, journeying with the characters even though I would have been as much of a liability as a sack of bones. All of the Londons, even White London, were vivid and real to me, and imagining worlds as different as they are but with the same geography made is somehow both easier and more confusing, but that's okay, because it made me think about the book even while I was doing other things (maybe not such a good thing if you're busy, but it's my summer vacation, so it is for me). It came to the point where I wished so much that I am a really good artist so I can put onto paper the Londons as I imagine them to look like.
I also found the characters great. It wasn't love at first sight for me, because I only started actively rooting for them when the masquerade started and things finally started getting exciting, but I liked them just the same. I wish I got to see Rhy more, because Kell's really biased and I wanted to form my own opinion of him. The interactions with Lila was a promising start, and perhaps there will be more ways I could get to know him in the sequel, so yay! Also, *spoiler alert* some of the supporting characters die, so best not get too attached. I was so upset about a couple of the deaths, even though I don't even know them that well, but I guess it just has to be done. This is a war, after all, albeit a really small-scale one that the masses of Grey, Red, and White London know nothing about, but it's the beginning of one, so I'm sure the dying won't stop anytime soon.*end of spoiler alert*
This is the kind of book that made me so eager to see what's next that I was already reading the next page before I realized that I haven't even finished reading this description paragraph thing a page before, so then I have to read everything again, and then I get ahead of myself. I blame that as the main reason why I couldn't finish the book sooner, but really, it's just an excuse to keep reading before it actually ends. I highly recommend this book for anyone who loves fantasy, adventure, and a dash of steampunk. 
Favorite quotes
Purity without balance is its own corruption.

'I'd rather die on an adventure than live standing still.'

'Love doesn't keep us from freezing to death, Kell,' she continued, 'or starving, or being knifed for the coins in our pocket. Love doesn't buy us anything, so be glad for what you have and who you have because you may want for things but you need for nothing.'

Delilah Bard looked like a king. No, she thought, straightening. She looked like a conqueror.
In a nutshell…
Rating: 4.5/5
400 pages
Author: V.E. Schwab
Original Language: English
Published: February 24, 2015
Genre: Fantasy