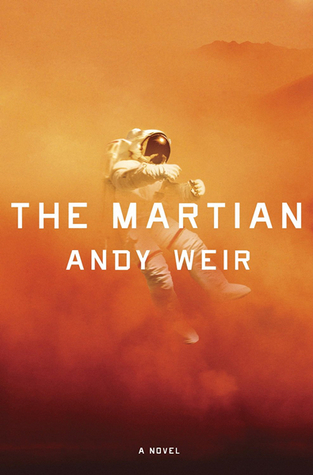 Six days ago, astronaut Mark Watney became one of the first people to walk on Mars. Now, he's sure he'll be the first person to die there. After a dust storm nearly kills him & forces his crew to evacuate while thinking him dead, Mark finds himself stranded & completely alone with no way to even signal Earth that he's alive—& even if he could get word out, his supplies would be gone long before a rescue could arrive. Chances are, though, he won't have time to starve to death. The damaged machinery, unforgiving environment or plain-old "human error" are much more likely to kill him first. But Mark isn't ready to give up yet. Drawing on his ingenuity, his engineering skills—& a relentless, dogged refusal to quit—he steadfastly confronts one seemingly insurmountable obstacle after the next. Will his resourcefulness be enough to overcome the impossible odds against him?*
I never realized how much of a nerd I really am until this book. You see, I'm not a very good student. I do better at standardized tests than my grades would suggest, but when you put me in a classroom for prolonged periods of time, the grades I churn out give a convincing argument that I'm a pretty average student (I was better in high school, but everyone knows that college is a different ball game altogether), so it came as a bit of a surprise that I really liked this book. It's like a novel-length solution with pretty solid mathematical proof (I wouldn't know, I just took Watney's word for it that his calculations were right, haha) for the problem of how anyone can survive on Mars. Okay, Mark Watney's obviously not anyone, as he's a botanist and mechanical engineer on top of being a trained astronaut. He's way ahead of majority of Earth's population in terms of chances of survival, but you know what I mean. There is a lot of technical stuff thrown around, from the way the NASA machines work to how they get messed up (which happens several times in the book – who knew life on Mars was hard?!?). It sounds boring and cerebral, but somehow I, the person who never waxed poetic about technical subjects in college, enjoyed it. I think it really says something about a character's likability if you're willing to read through how oxygenators and water reclaimers work just to see if he survives at the end. It really helped that Watney is a very good-natured, funny, optimistic kind of guy, because I really wasn't under the impression that I'd laugh at all while reading this. I totally get how his journal style sometimes can make people feel like he isn't taking anything seriously, but I liked how it wasn't all bleak and serious like most sci-fi books are. Maybe it's because Watney's log entries exhibit my type of humor, but it definitely made reading the technical parts easier.
TL;DR lots of technobabble but hero's pretty cool so I really liked it.
I have no idea how this will be translated to the big screen, but I'm ready to see it!
In a nutshell…
Rating: 4/5
Hardcover, 369 pages
Author: Andy Weir
Publisher: Crown
Published: September 23, 2012
Language: English
Genre: Science Fiction