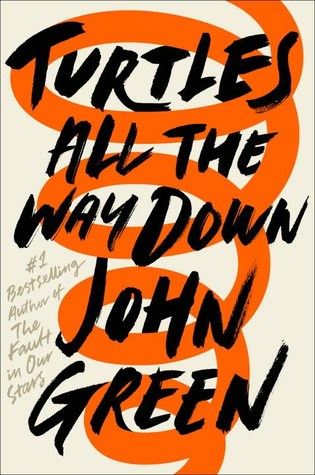 Sixteen-year-old Aza never intended to pursue the mystery of fugitive billionaire Russell Pickett, but there's a hundred-thousand-dollar reward at stake and her Best and Most Fearless Friend, Daisy, is eager to investigate. So together, they navigate the short distance and broad divides that separate them from Russell Pickett's son, Davis.

Aza is trying. She is trying to be a good daughter, a good friend, a good student, and maybe even a good detective, while also living within the ever-tightening spiral of her own thoughts.

In his long-awaited return, John Green, the acclaimed, award-winning author of Looking for Alaska and The Fault in Our Stars, shares Aza's story with shattering, unflinching clarity in this brilliant novel of love, resilience, and the power of lifelong friendship.*
(Yes, it's been a while since I posted! Life, especially medical school, has proven itself to be a black hole for most of my time and energy, and I haven't been able to read for pleasure as much as I would have liked. I still get to read books for fun, but only this one has compelled me to write a review this year so far. That, and it's ASEAN week for us here in the Philippines, so I have no classes this week! We still have schoolwork to do, but yay, conditional freedom. Anyway, on to the review!)
Let it be known that I had no idea what this book was about when I started reading it, even though I've heard about it for a while now. I think that's probably an amazing feat, actually, granting that I follow a lot of book bloggers in various social media sites, but med school blinders are pretty powerful. I'm glad I read this book, though. I thought I had John Green all figured out, and therefore could brace myself from emotional onslaught, but then Turtles All The Way Down prances into the picture and I end up getting all sorts of unwarranted feelings from a book again. 
I just read the book's final page around 40 minutes ago, and the time it took reaching to typing this sentence was mostly spent trying to figure out how I really feel about this book. I had such a hard time reading this because of Aza's obsessive-compulsiveness (she has OCD, even though it was never explicitly mentioned), or what she calls her "invasives", but I flew by the pages anyway because I wanted to know what would happen to her. I didn't find Aza likable at the beginning, but accompanying her in her journey to become a better version of herself has made me quite attached to her by the end. I suppose in a way, her psychiatrist Dr. Singh was correct in saying that your thoughts are not you. The book was narrated by Aza, yes, but beyond her warring thoughts, her personality just shines through.
It's become so typical to read about teenagers who have meaningful conversations about science, philosophy, and life in a John Green novel, but I loved this nevertheless! Some people have mentioned how unrealistic the conversations portrayed teenagers, but I will argue that as a teenager not too long ago, I loved thinking about this sort of thing. I just never had the eloquence nor the courage to express those thoughts out loud. To be quite honest, between the conversations, the main character, and other aspects of the plot, I found the missing billionaire part the most forgettable. It wasn't as fleshed out as I expected, but eventually, even as its loose ends were tied up, it wasn't the reason I continued reading until the end.
Overall, I really enjoyed this book. The most fascinating part for me was Aza, her relationship with herself, and how she got along with the people around her. It felt really vulnerable and personal, and learning that this is but a foggy reflection of the John Green's own struggles with OCD made more of an impact for me, because it helped me understand mental illness a bit better. That definitely makes this book important.
My favorite quotes (the whole thing is pretty quotable, really): 
"Whether it hurts is kind of irrelevant."

"At some point in life the world's beauty becomes enough. You don't need to photograph, paint or even remember it. It is enough."

"And the thing is, when you lose someone, you realize you'll eventually lose everyone."

"One of the challenges with pain—physical or psychic—is that we can really only approach it through metaphor. It can't be represented the way a table or a body can. In some ways, pain is the opposite of language."

"And we're such language-based creatures that to some extent we cannot know what we cannot name. And so we assume it isn't real. We refer to it with catch-all terms, like crazy or chronic pain, terms that both ostracize and minimize. The term chronic pain captures nothing of the grinding, constant, ceaseless, inescapable hurt. And the term crazy arrives at us with none of the terror and worry you live with. Nor do either of those terms connote the courage people in such pains exemplify, which is why I'd ask you to frame your mental health around a word other than crazy."

"Your now is not your forever."

"Everyone always celebrates the easy attractiveness of green or blue eyes, but there was a depth to Davis's brown eyes that you just don't get from lighter colors, and the way he looked at me made me feel like there was something worthwhile in the brown of my eyes, too."

"It's a weird phrase in English, in love, like it's a sea you drown in or a town you live in. You don't get to be in anything else—in friendship or in anger or in hope. All you can be in is love."

"Thoughts are only thoughts. They are not you. You do belong to yourself, even when your thoughts don't."

"Every loss is unprecedented. You can't ever know someone else's hurt, not really—just like touching someone else's body isn't the same as having someone else's body."

"Life is a series of choices between wonders."

"In the best conversations, you don't even remember what you talked about, only how it felt."

"…the world is also the stories we tell about it."

"People always talk like there's a bright line between imagination and memory, but there isn't, at least not for me. I remember what I've imagined and imagine what I remember."

"I missed everybody. To be alive is to be missing."

"You remember your first love because they show you, prove to you, that you can love and be loved, that nothing in this world is deserved except for love, that love is both how you become a person, and why."
In a nutshell…
Rating: 4.5/5
286 pages
Author: John Green
Original Language: English
Published: 2017
Genre: Young Adult, Contemporary, Fiction